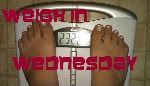 It's Weds. And that means weigh in day. I
knew
the scale wouldn't like me this week. Last week, I ate Mcdonalds once, and Burrito Loco Nachos (with extra sour cream) twice. I also had a few candy bars, and some nutty buddys as well.
What can I say? Last week was rough.
The last time I weighed myself I was sitting around 226. Today...229.
3 pounds.
Which puts me back to my starting weight.
But, I am recommited to losing this weight. My fridge is stocked full of healthy choices. and there is not a candy bar in sight.
Wanna join in?
Hop on over to
FatGirl To Thin
and join in.
Accountability is a good thing...trust me!