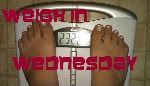 Well, it's that time of the week again...Weigh In Wendesday. ( Want to join in? Show support? Hop on over to
Fat Girl to Thin
to link up)
I wasn't all to hopeful going into this week. I am an emotional eater. And I have been under a tremendous amount of stress this week...so I expected, at the very least, a gain of a pound or so.
*drum roll please* I am
DOWN!!
I am at 225!! That is 5 pounds from last week!!
I am beyond excited. I have been trying extremely hard to stick to the master your metabolisim plan by Jillian Michaels. It is GREAT! The food is good, and super easy to eat.
I am going to work extra hard this next week. My goal is to weigh 220 pound, for the first time in years, by next week
Wish me luck